Each year, YMCAs across Canada recognize acts of peace and exceptional work being done locally and globally to build more peaceful communities.
In 2019, local peacemakers received recognition and a Peace Medal at a special ceremony.  (See below for bios on the recipients.) Peacemakers are selected through a nomination process.
Emily Tozer
Emily Tozer, 21, of Riverview is a shining star of peace in our community.
In 2017 and 2018, Emily volunteered at Cheer Olympia as an assistant coach with the younger team, called Zeta, working with four-to-five year old girls who were just starting with cheer.  She helped the girls learn basic skills and build their self-confidence.
After 18 months of volunteering, Emily was offered a paid position at the gym, working with Zeta as a junior coach. Her volunteering and now work at Olympia were huge wins not only for Emily but also for other members of the Pillars, a local team of athletes of various abilities. It solidified not only her position as an athlete but showed her as an integral member of the coaching family. Her work with the Zeta children has given her and other members of the Pillars more visibility and reinforcing that they are an important part of the cheer club.
Involvement in cheer (or cheerleading, as some of us may know it better) is not the only way Emily dedicates her time to the community.
She also volunteered at the Moncton Boys and Girls Club, doing art activities with some of the younger kids.
In June 2019, Emily completed her Level 2 certification in American Sign Language (ASL).  Emily wanted to take ASL classes to be better at communicating with some friends from school, baseball and the YMCA's Adult Day Program. Now that she has completed her courses, she is working to bring a basic sign language activity to the Moncton Public Library for children.
Meanwhile, Emily also brings her compassion for others to seniors, volunteering at Parkland Riverview. Initially, she hosted an art activity for some residents of the seniors' facility. Recently, she started going to Canterbury Hall where she sits with residents to chat, play games, colour or do puzzles. Emily enjoys connecting with the residents and making them smile.
Last, but certainly not least, Emily is currently part of the YMCA's Community Action Network. The program – also called YCAN – engages leaders aged 15 to 30 across Canada to address a community need through service projects. Emily's YCAN group is focusing on accessibility and inclusion by working on building a sensory room at the Y. This room will be open to everyone and will help erase the stigma associated with intellectual disabilities.
Thank you, Emily, for helping others in so many ways… for being so wonderfully empathic to individuals of all ages, making them feel important and valued. You are truly an ambassador of peace in our community.
Hali Douthwright
Twenty six-year-old Hali Douthwright of Petitcodiac is overflowing with passion and doesn't let Down syndrome stop her from pursuing her dreams.
Take music. Hali is extremely passionate about music and one day hopes to be on The Voice. Her love of music has allowed her to volunteer as a judge for the Down Syndrome Society's annual talent show. (Look out for Hali, Gwen Stefani!)
Then there's Hali's passion for helping. She is willing to do just about anything to lend a hand to those in need.
She volunteers weekly for the Friends of the Moncton Hospital, helping in the hospital pantry and with raffles and other fundraisers. In the last two years, she has volunteered over 900 hours and raised over $8,000 for the hospital – WOW! The funds have been used for everything from the purchase of new equipment to hospital maintenance. Hali is very dedicated and never misses a volunteer opportunity with the hospital.
Meanwhile, Hali also volunteers with the YMCA of Greater Moncton's Community Action Network. The program – dubbed YCAN – engages leaders aged 15 to 30 across Canada to address a community need through service projects.
One of the local YCAN groups is currently working to create a sensory room at the YMCA that will be accessible to all. Hali's background in administration has been vital to the YCAN group's success.
What else is Hali passionate about?
She is also passionate about encouraging others to find THEIR passion! She is a strong advocate for accessibility and inclusion, and encourages others with intellectual disabilities to keep learning and not to give up. She empowers others who are like her not to be afraid to stand out as they make a difference in the world.
Thank you, Hali, for being the passionate, wonderful person that you are… for being such a giving individual… for leading others… and for doing all that you do with a smile. You continue to make a significant impact in our community – through the organizations you assist, the relationships you create, the funds you raise and the people you have positively affected.
Thank you, Hali, for being a champion of peace in our community!
Robert Stewart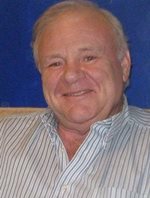 Robert ('Bob') Stewart of Shediac passed away in September but was nominated for a Peace Medal for dedicating the past 23 years of his life to the cause of peace and peace education.
Originally from Fort Frances, Ontario and raised in Hamilton, Bob held many senior management positions in business and government during his career but his passion was peace education. That passion was ignited through his work with Rotary International.
Bob made many contributions to peace, including founding the Canadian Centres for Teaching Peace, an online hub of hundreds of peace-related sites and activities. Through the years, Bob engaged with thousands of peace leaders throughout the world.
Bob died at the age of 67, still in the midst of planning new peace projects and having completed a landmark book on peace in the community.
In recent years, despite dealing with the onset of cancer and sometimes-debilitating treatments, Bob continued to inspire others, developing peace programs that are already making significant impact. In his work and his relationships with others through community peace programs, Bob embodied the principles indicated by the YMCA acronym of PEACE – Participation, Empathy, Advocacy, Community and Empowerment.
Some of Bob's recent activities included:
Organizing and bringing together over 50 Rotarians, all of them Peace Leaders with Rotary International at a Peace Education Conference in Winnipeg, as well as an international online conference engaging Rotarians from around the world;
Involvement at a Peace Building conference in Vancouver with Rotary International exploring climate change and the environment;
Helping Rotary International gain greater clarity on its peace mission;
Starting a series of 'dinner meetings' with peace leaders in the Moncton area, helping to create a collaborative approach in order to develop a 'culture of peace' in the area. Three such meetings have been held (one including Mayor Dawn Arnold) and have been a catalyst for continuing developments, including plans for a Peace Park in Moncton;
Supporting the work of Anne-Marie Collette (Robert's wife) in the development of peace education in schools;
Authoring and publishing two books, both of which in different ways provide new ways to peace – "Becoming Love" and the "Rotarian Peace Leaders Collaborative". The books offer a roadmap to any community group wishing to promote peace. The latter book was launched in Hamburg, Germany at the Rotarian International conference in May 2019, at a time when Robert's health was in steep decline;
Inspiring the creation of several 'Peace Cafes' in and around Moncton, providing opportunities for people to discuss issues of peace in an open and inviting environment;
Attending gatherings of community peace leaders, providing inspiration to those who attended.
Robert worked collaboratively with so many organizations and individuals, and recognized that peace work must be carried out in partnership with others. He engaged with Rotary International, especially their designated peace leaders and ambassadors, with peace leaders in local communities, from Yellowknife and Calgary to Moncton, and with schools and businesses through his development of conferences, educational programs and peace cafés.
Robert has left a legacy of peace in many communities, including our own, and so we are pleased to honour him posthumously with a YMCA 2019 Peace Medal. We thank Robert for his dedication to peace… for sharing a message of peace and harmony both at home and abroad… for helping to build peace in our world.